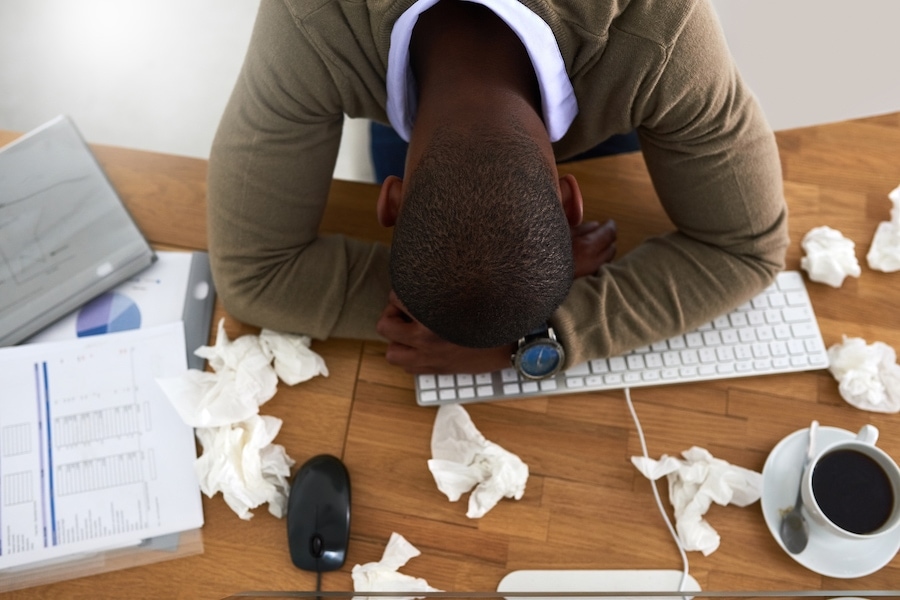 As the weather warms up, millions of people begin their annual battle with seasonal allergies. According to the American Academy of Allergy, Asthma, & Immunology (AAAI), roughly one-quarter of the world's population suffers from allergies and related respiratory distress each year.
Our professionals at Harriman Heating & Air Conditioning want to help you do everything you can to minimize you and your family's allergy symptoms this upcoming summer, especially as we continue to move through the challenges of the COVID-19 pandemic. Health professionals agree reducing exposure to the substance causing the reaction is the best way to manage allergies.
Fortunately, your air conditioning (AC) system can help you do just that.
What is the extent of the problem?
It's more than likely you have someone in your Novi home who suffers from some sort of allergy. Fortunately, most allergy sufferers experience only mild symptoms such as sneezing, itchy eyes, and a minor cough. However, in some cases allergies can be tied to more serious respiratory issues such as asthma. Currently some allergy sufferers may wonder if they are more susceptible to COVID-19 infections.
A wide range of common indoor air pollutants can increase allergic reactions. Dust, dust mites, pet dander, cooking odors, smoke, mold, viruses, bacteria, and chemicals from household cleaners or products are all potential culprits of causing allergies.
How does an air conditioner help?
Although most people associate air conditioning as a system for keeping indoor air cool, there are many components within the system that contribute to better indoor air quality as well. For example, all heating, ventilation, and air conditioning (HVAC) systems have the ability to filter the air as it circulates through your Novi home. That's why one of the most important things you can do to reduce allergic reactions inside your home is to change your air filter.
In most cases, manufacturers suggest replacing your HVAC air filter every three months. If you have family members who are particularly prone to allergies, you may want to invest in a high-efficiency particulate air (HEPA) filter, which is excellent at removing 99.97 percent of the smallest particles—from 0.3 microns (µ) on up. Another helpful strategy is to change your air filter even more frequently.
Air conditioning systems can also help control indoor air humidity. Experts recommend you keep your Michigan home's humidity level between 30 and 50 percent, which will impede the growth of common allergens such as mold, mildew, and fungus.
Why is air conditioning maintenance important?
If you have a central air conditioning system, your air conditioner is part of a comprehensive network that controls the climate, humidity, and air quality in your entire home. One of the leading ways to improve your indoor air quality is to have professional maintenance for your HVAC system on a regular basis, as well as supplementing your system with air purification accessories.
By investing in a professional preventative maintenance visit from us twice a year, you kill two birds with one stone—improve your system's performance and help reduce common allergens in your home.
Here's why.
Your home's air duct system, also called your ductwork, is a network of air traveling throughout every room in your home. Over the years it's common for dirt and debris, as well as dust, pet dander, and other common allergens, to accumulate in your duct system. 
Keeping your ductwork in optimum condition helps reduce these allergens from being released into your breathing air via cracks or holes. During a maintenance visit, our maintenance experts can alert you to these issues in your air ducts to help prevent dirty air leaking. We can repair and seal these problems to both help clean your air and avert further energy loss.
At Harriman Heating & Air Conditioning, our maintenance visits include a thorough inspection, cleaning, and tune-up of your entire system. By removing accumulated dust and dirt on fans, wires, and other important components, you will reduce the amount of allergens that may be circulating through the system. 
You will experience fewer emergency breakdowns with regular professional maintenance. With a cleaner and tuned system, your HVAC components will perform more efficiently and effectively.
Contact Your Air Conditioning Experts
Our professionals at Harriman Heating & Air Conditioning in Novi, MI, can help you learn more about how your air conditioner can help with your allergies. Call our team today prepare for the upcoming allergy season. We would be happy to discuss our maintenance plans, air conditioning repair, or air purification systems. Call at 734-271-6200 or request service online today.